Dirk Zeller: The Market is Not Going to Crash!
People are concluding what will happen in today's real estate market after the Federal Reserve Bank of Dallas highlighted symptoms of a "brewing U.S. housing bubble". According to the internet, social media, blog articles, and other online platforms, we're on the verge of a market crash.
As professionals in the real estate business, do you feel that the market is crashing?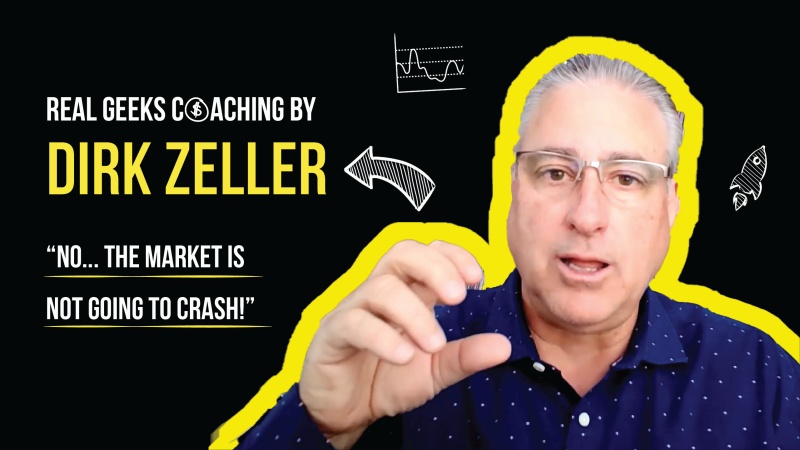 One Data Point Thinking Is Wrong
People conclude what is happening in the marketplace based on only one data point. They are comparing a specific data point where everything appears to be fine; buyer and seller appreciation is high. Today, people are afraid of a market crash because the current data isn't as good as that one data point before the pandemic.
One Data Point Thinking is blocking the logic. It's an emotional-based point of thinking. That specific emotion is none other than fear. Here is a gathering of market fears, along with an explanation of why these fears are wrong.
Fear of Market Correction
A real estate correction is a slight decrease in the market's value. We're currently experiencing a market correction but we are far from a market crash.
We should not be afraid of a market correction. We need to highlight that as homeowners or real estate owners, you want to get the longest term possible or even make it a forever home or property.
Highlight the following:
Length of intended ownership
Short-term vs long-term ownership
Be in the longest-term home possible
Fear We Have Hit The Peak or Are The Peak
We haven't yet seen the sign that we've arrived at the peak. So, even if today's market appreciation is low, there is a better possibility that it will rise next year or even in the next few months.
Fear if They List, Can They Find a Replacement?
Fear of not having a replacement property is one fear that many sellers are facing. Fear of not being able to find a replacement is haunting them, which is why they are delaying their listings. As a result, many individuals believe there are fewer listings in today's market, leading them to believe the market is crashing.
Fear of Market Overheating
When housing demand outpaces supply significantly and consistently, there is overheating. Yes, this may be a true scenario, but it is not taking place right now. The market chain is somewhat shifting, but it is far from overheating.
Fear of the Volatility in the Economy Due to Inflation
The unfortunate war in Ukraine may have an impact on inflation rates in all markets, not just real estate. One of the most significant challenges is the high cost of petroleum, which we generally consume regularly to meet with our clients, buyers, and sellers. This issue is widespread and is not causing the market to crash.
Fear of Interest Rates Rising
While we may be experiencing high-interest rates today, interest rate shifts are normal. And today's interest rates are relatively normal and nothing to be concerned about.
Bottom Line
Pulling back out of fear is a wrong decision in the end. If you put off or delay moving to a new home because of fear, it will lead to causing you more money 2 or 3 years from now. That's why it's critical to advise bio prospects, sellers, and buyers that relocating to a new home sooner rather than later will save them money and time. If they ignore the reality and make a bad decision out of fear, there will be significant financial penalties, particularly in terms of interest rates.
In reality, interest rates are up and closing in on 5%. Payments are up and buying power is down.
Sellers are more confident and assertive than they were last year. They'll be a handful, testing the boundaries of cost.
Payment will increase and the span between what their home is worth and what they want to buy is too great.
"You can avoid reality, but you cannot avoid the consequences of avoiding reality." - Ayn Rand
Published 2022/04/27
|
Share This Post (Permalink)
|
IDX Real Estate Websites that Convert
Get Started Now
Sign ups have increased by a factor of 10 times over our previous IDX website provider. –Lee Cunningham, Greenville
View More Testimonials
Real Geeks Demo & Overview
Categories
Archives