Facebook Marketing Tool Streamlines Ad Process
A quick & easy solution to creating Facebook ads that drive traffic to high-converting landing pages.
Integrates directly with Facebook advertising platform and Real Geeks sites and automatically adds tracking pixels.
Typical ads take 25-30 minutes to create; with the Real Geeks Facebook tool, agents can create ads in just 3-5 minutes.
Robust reporting enables clients to quickly gauge which ads are performing most effectively.
Track CPC, likes, shares and other conversion metrics.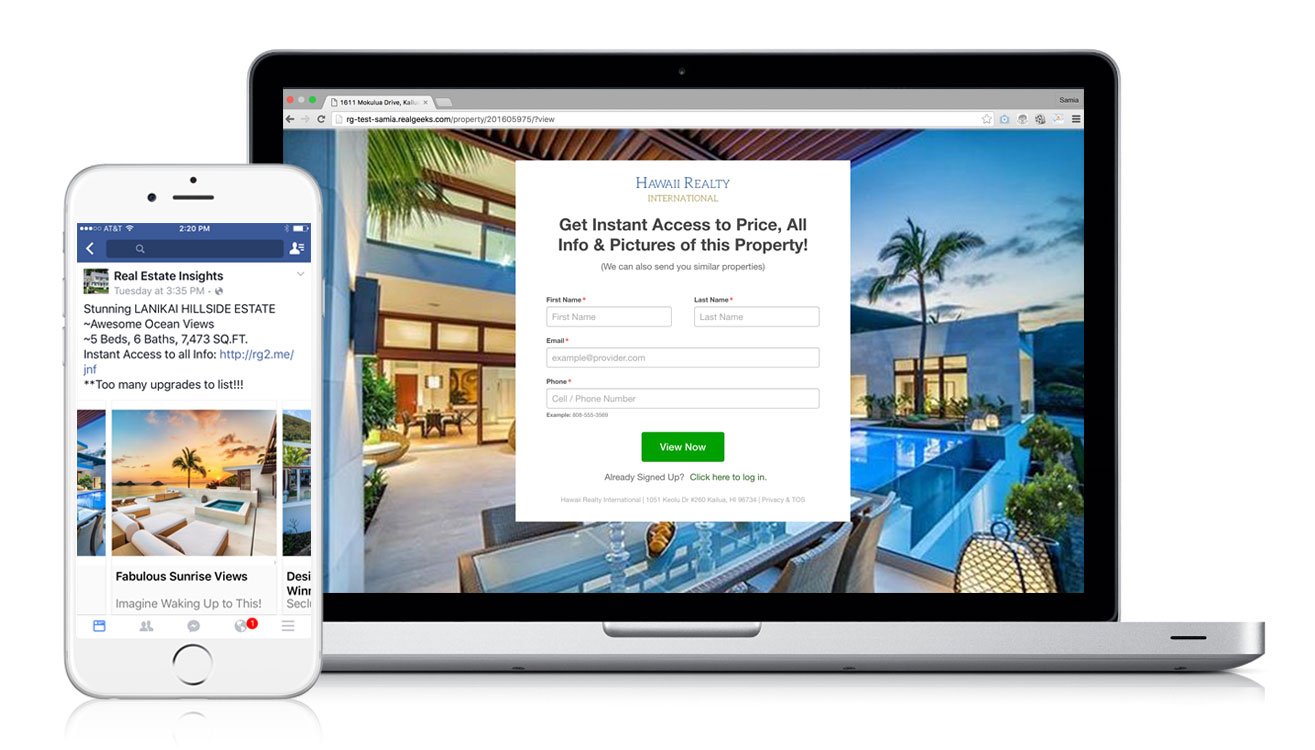 See How it Works
Facebook is THE SINGLE BEST ad product in 20 years!

Gary Vaynerchuk, CEO of VaynerMedia
Real Geeks Facebook Marketing Tool Featured In:





Facebook Marketing Tool for Real Estate & REALTORS®
Facebook is a powerful platform where you can generate more business and build your brand awareness. If you're currently not doing Facebook marketing, you're missing out on one of the biggest marketing opportunities of our time!
Real estate agents are CRUSHING IT using Social Media! They are generating demand where customers are focusing their attention.
The targeting on Facebook is incredible! In this video, we cover all the awesome ways of generating more business through Facebook marketing.
Real Geeks offers an easy-to-use Facebook marketing tool for real estate agents and REALTORS®. Our tool has streamlined the process of creating ads within 3-5 minutes. It creates AMAZING looking ads that convert well and drive the user to your highly optimized landing pages.
Our tool even adds the tracking and conversion pixel automatically to your website. On our ads dashboard you're able to see exactly what type of leads are converting and how well your ads are performing.
It's a game changer!!!
Here's what people are saying about the Real Geeks Facebook Marketing tool:
"Gone are the days of spending 15-20 minutes creating an ad"
"It has literally taken an over complicated process and made it simple for anyone to use"
"The statistics for each ad make it simple to see which ads are performing well and keep my ROI in check"
"I can't imagine my life again without it!"
"It has transformed my business"
Here's what Gary Vaynerchuck says about Facebook Marketing:
"Facebook is an incredible platform that allows you to overlay a ton of rich targeting layers like age, location, recent life events, and interests"
Gary Vaynerchuck is the CEO of Vayner media, the fastest growing digital marketing agency. He is also the host of the Gary Vee and Daily Vee shows. He is the author of four New York Times best selling books, "Crush It!", "The Thank You Economy", "Jab Jab Jab Right Hook", and his most recent one, "Ask Gary Vee".
See more...